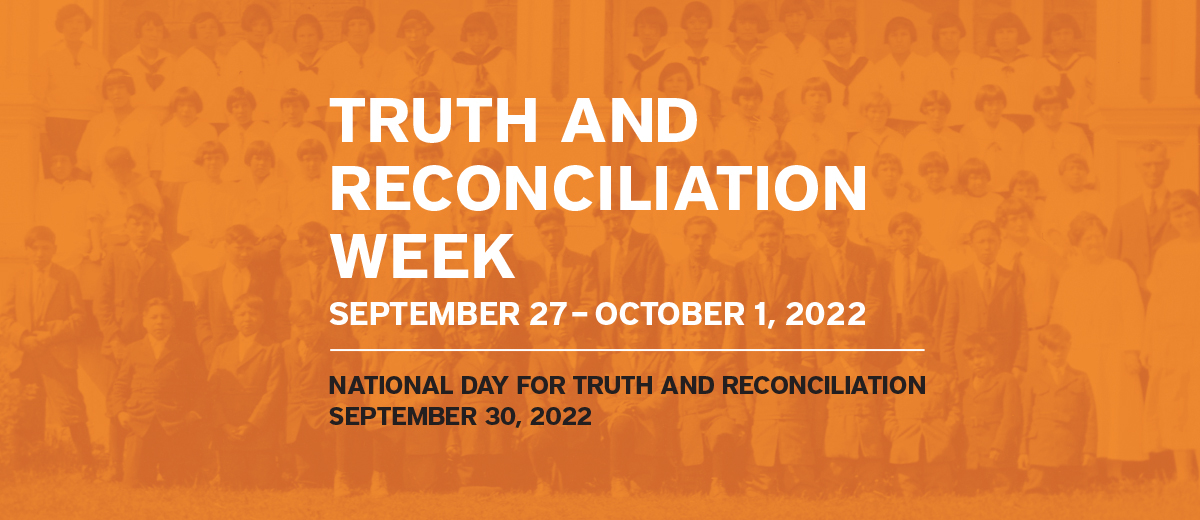 Truth and Reconciliation Week – The Manitoba Teachers' Society
A wide variety of events and resources are available to honor, participate in and reflect on the National Day for Truth and Reconciliation, September 30 and beyond. Be sure to check in your community for additional activities.
---
Resistance on the Giimooch
The Life Story of Mary Courchene: Elder Mary Courchene spent 10 years in residential school. In a series of lessons and videos, Mary and her family share her story and how they passed on the residential school experience for generations. The lessons were created to honor all the children who never came home and whose stories we will never hear. This work was created to honor Mary's voice, so her story and others like hers will never be forgotten. Lessons 1 and 14 are available for preview now. Watch for updates on additional lesson plans at mbteach.org, as well as Facebook, Twitter, and Instagram.
Click on here for the video series trailer.
Click on here for a presentation of the series.
---
Events
The National Center for Truth and Reconciliation organizes a series of free virtual events, open to all Canadian schools (grades 5-12) and the general public. Programming includes: discussions of Indigenous treaty truths; First Nations, Métis and Inuit Land Claims; residential school systems; as well as historical workshops, videos and other activities, all supported by artistic and cultural performances by First Nations, Métis and Inuit artists.
2n/a Annual Orange Shirt Day Powwow will take place at the RBC Convention Center in Winnipeg at 1 p.m. on September 30.
Pipe Ceremony and Survivor's Walk and Pow-Wow will take place at The Forks at 10 a.m. on September 30.
Youth Event Every Child Matters will be held at 445 King Street in Winnipeg from 10:30 a.m. to 1 p.m. The event includes a sacred fire, teaching of the Elders, unveiling of a commemorative project and a feast.
The Children's Museum will be honor survivors and children who never came home. On September 30 from 11:00 a.m. to 3:00 p.m., join a journey of education and reflection with the Louis Riel Institute at a Atelier Métis Moccasin and Metis Paper vest workshop. Guests of all ages are encouraged to wear an orange shirt to help raise awareness of the impacts of residential schools and in remembrance – every child matters. General admission is free.
The Manitoba Museum, in partnership with the National Center for Truth and Reconciliation, hosts Orange Shirt Days from September 30 to October 3. Special programming includes temporary exhibits, videos, and self-guided digital tours providing education on the history and legacy of residential schools. Free entry.
A flag-raising and healing march will be held in Morden, MB on Friday, September 30 at the Access Event Center, 111-D Gilmour Street at 10:00 a.m. Lunch will be provided.
The Winnipeg Art Gallery is hosting a special programming day in partnership with the National Center for Truth and Reconciliation September 30, from 11:30 a.m. to 4:30 p.m. This event includes the screening of remember children at 12:00 CT. Following the screening, there will be a book launch and public discussion on the history of the residential school system. A Zoom webinar panel begins at 12:45 p.m. where residential school survivors Betty Ross and Marlene Gallagher share their experiences. Click on here for the Zoom link. Events are open to the public and admission is free for self-identifying Indigenous people (general admission to be given to NCTR).
Orange Shirt Days at the Manitoba Museum will feature special programming all day from Friday September 30 to Sunday October 2. Exhibits in the Museum's galleries focus on the history of residential schools and the Truth and Reconciliation Commission (TRC). Programming includes NCTR videos, a self-guided tour of the many exhibits relevant to the history of the Indian residential school system and the TRC, and a Manitoba Cares station where visitors can share their thoughts and pledge to take action. for reconciliation. Free entry. Guests are encouraged to wear orange.

The Reconciliation Race brings people together across the country while providing education and a meaningful event to attend on a day meant for reflection and learning. The race will start in Birtle, Manitoba at 8:00 a.m. at the old boarding school and end on the Birdtail Sioux Dakota Nation. For more information on the Reconciliation Run or to register, visit the event website. webto placeor contact Trechelle Bunn at [email protected].
The Forgotten: The Métis Residential School Experiencepresented by Vincent Design of Winnipeg, runs from September 23 to October 3. The exhibition documents and gives voice to the experiences of the many Métis children who attended residential schools and explores Métis identity, cultural recovery and healing.
---
CTF/FCE Resources
remember children: The National Center for Truth and Reconciliation is offering a free educational program to all schools in Canada from September 26-30. The program offers age-appropriate materials for students in grades 1-12. Registration is required to view pre-recorded videos and live Q&A.
The Martin family initiative: The Martin Family Initiative works with First Nations, Inuit and Métis to support the education, health and well-being of children, youth and adults. Their work includes supporting parents and young children, literacy in First Nations elementary schools, high school entrepreneurship, and mentoring for students to pursue post-secondary education. They provide resources on Indigenous education, including a virtual library for educators to explore learning materials and research reports.
right to play: Right to Play's Indigenous programming finds ways to support Indigenous ways of learning within communities. They provide resources, coordination and support to local instructors within their communities for long-lasting and effective partnerships.
Click here for a list of key terms, plus readings and videos on a few essential topics related to the Aboriginal historical perspective and the effects of colonization.
---
Other Resources
Gladys We Never Knew: The Life of a Child at a BC Indian Residential School (bctf.ca) This eBook is intended to be an interactive resource leading educators from story to story using links on each page to offer related resources. Throughout this book, you will find Project of Heart tiles with an "aura" that indicates it is a bond. Click on each of these thumbnails to find additional resources, including films, videos, documents, articles, activities and more. An ISSUU version of these resources is also available at https://issuu.com/teachernewsmag/docs/ebookr.
Mary Two-Axe Earley: I Am Indian Again: Watch the National Film Board's (NFB)'s harrowing story of Mary Two-Axe Earley, who fought for more than two decades to end discrimination against women of First Nations enshrined in the Indian Act of Canada and became a key figure in the rights movement.
Indigenous Voices and Reconciliation Playlists: This collection of films and teaching guides related to the Indigenous Voices and Reconciliation Studies program is available on the NFB campus. Many schools, school boards and ministries of education subscribe to Campus.
Legacy of Hope Foundation – Indigenous-led charity is a national Indigenous charity with a mandate to educate and raise awareness and understanding of the Indian residential school system, including intergenerational impacts such as the removal of generations of Indigenous children from their families, including the 60s and post-traumatic stress disorder.