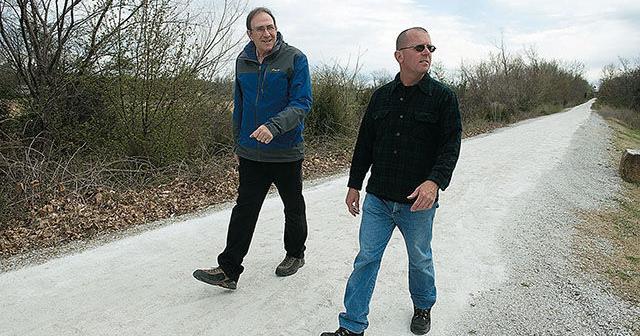 The 5 Q's: Joplin Trails Coalition Shares Details of Upcoming Projects | Local news
[ad_1]
In this weekly article, we ask a community member five questions. Today we are chatting with Paul Teverow and Robert Herbst, with the Joplin Trails Coalition.
1. What is the main objective of the Joplin Trails Coalition?
Our primary goal is to complete, improve and maintain our two rail trails: the 3.5 mile Frisco Greenway and the 16 mile Ruby Jack trails. We also continue to work with local governments and other civic groups to improve non-motorized transportation facilities in Southwest Missouri.
2. Why are local trails important to a community?
Cycling and walking paths can provide a number of benefits to a community. A safe space where people can walk, run or cycle at their convenience can offset some of the negative impacts that sedentary lifestyles and too much screen time have had on physical and mental health. We are sure your readers are including people who exercise more than before due to the availability of our trails. Certainly, trail use has increased over the years, especially during the COVID-19 pandemic of the past two years, as outdoor exercise is one of the safest, most affordable, and most popular activities. benefits that you can do outside the home.
Trails can also safely connect people to businesses, work, school, and churches. Trails can strengthen a community by providing a place for people to meet and make friends, and provide a safe place for parents to teach children to ride a bicycle. Many small businesses and nonprofits host trail events to raise funds and provide fun community development activities. In short, the trails improve the livability of communities.
3. The Joplin Trails Coalition is completing its 30th year in the community. What are your accomplishments over the past 30 years?
Certainly at the top of our list is the completion of the Frisco Greenway Trail and most of the Ruby Jack Trail. People can now safely cycle or walk from downtown Joplin to downtown Webb City and Carthage to Oronogo and Carl Junction. None of this would have been possible without the support we have received from local governments, businesses, individuals and civic groups, and without the volunteer work provided by area Scout troops, faith and youth groups. and academic organizations.
We're also proud to have supported the development of other public trails, starting with Joplin's Campbell Parkway, possibly the region's premier recreational trail. We are also proud and grateful to the volunteers who participate in the construction and maintenance projects of the trails.
4. How has the Joplin Trails Coalition changed over the past three decades?
We started out as a small group of mostly Joplin residents who wanted to work on ways to make walking and cycling to popular destinations safer. Our focus changed when the Rails to Trails Conservancy made us aware of the possibilities, first in 1991 and then in 2001, to develop recreational trails along inactive rail corridors. As a result, we have also moved from an organization primarily based in Joplin to a regional organization. But since we were already chartered as the Joplin Trails Coalition, we kept the name.
Our membership has grown from a few dozen dues-paying members to over 80, and through our mailing list, website and Facebook, we keep in touch with hundreds more of our supporters. We relied on phone messages and emails to organize trail maintenance. Now we have a pool of dozens of volunteers. Some of them take responsibility for the upkeep of the Frisco or Ruby Jack sections. Others occur when we send SMS notifications or post updates to our JTC Volunteers Facebook page regarding trail construction or maintenance projects.
5. What are the upcoming projects for the group?
Thanks to the feedback received at a recent meeting, we have prioritized several upcoming projects. There are a few spots on the Frisco Greenway where we're going to improve the surface. We also need to strengthen one of the Frisco bridges in Webb City. We will add and compact a new layer of crushed limestone approximately 1.5 miles of Ruby Jack between County Road 200 and Road D.
Many of your readers knew Dr. Robert McDermid, a retired MSSU professor of psychology who was killed in a tragic car crash in June. Because Bob regularly used and helped maintain the Frisco Greenway Trail, his family and friends donated a bench to be placed along the trail in his memory. Soon, we hope to announce where and when the bench will be installed.
We are often asked if we plan to connect the Frisco Greenway and Ruby Jack trails. While it is true that they are only a few kilometers apart, connecting them involves significant challenges. First, we had to locate the route and reserve some land for the connection. Also, we would need to cross Center Creek as the County Road 230 bridge is not wide enough to accommodate both motor vehicles and bicycles. Recently, we worked with Webb City to develop a safe route that would lead to Center Creek. If we can accomplish this, we will need significant additional public support to fund the project and build a Center Creek crossing.
Finally, if volunteer hours and resources allow, we will be cleaning up the most westerly 2 miles of the Ruby Jack, which has yet to be redone.
If you like to use the trails, consider becoming a member by visiting https://www.joplintrailscoalition.org/contribute.
Although our membership year begins in June, anyone who joins now will remain a member in good standing until May 2023. Most of our trail maintenance work only requires a few hours, usually the first Saturday of the month. winter. You can join our network of volunteers on https://www.facebook.com/groups/483280338966111.
Robert herbst is the president and Paul Teverow is the secretary of the Joplin Trails Coalition.
[ad_2]