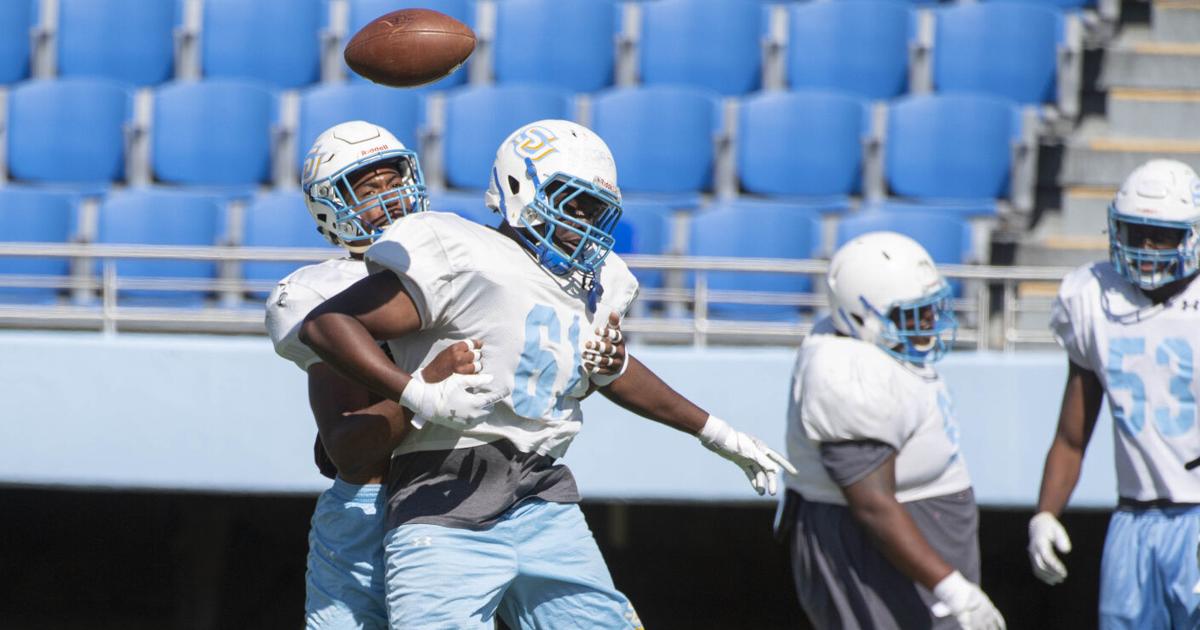 Southern scheduled for ESPN programming family four times in 2022 | Red Stick
Southern University will play on the ESPN family of programs four times during the 2022 season, according to the schedule released Friday by the Southwestern Athletic Conference office.
The Jaguars will play on the ESPN+ streaming service at Prairie View on October 8 and at home against Mississippi Valley State on November 12.
On November 5, the Jaguars will play Florida A&M on ESPNU. They will also play at Jackson State on October 29 on a platform to be determined later.
SWAC's television schedule begins with an Aug. 27 game against Alabama State at Howard University on ESPN's main channel. Six SWAC games will air on ESPNU, and the December 3 conference championship game is scheduled for ESPN2.
Conference commissioner Charles McClelland touted league attendance records and said seven SWAC games on the ESPN+ streaming service topped some FBS games on the network's linear channels.
"We broke the SWAC attendance record, which led to additional media exposure and business partners," McClelland said. "Our conference is strong and vibrant and we're not going anywhere. We will only get stronger.
Scroll down for the full conference TV schedule:
Aug. 27 Alabama State vs. Howard ESPN
Sept. 3 Miles at Alabama State ESPN+
September 3 Texas Southern at Prairie View A&M ESPN+
September 10 South Carolina State at Bethune-Cookman ESPN+
September 17 Grambling at Jackson State ESPNU
September 17 Embodied Speech at Prairie View A&M ESPN+
September 24 Alabama A&M at Florida A&M ESPN+
September 24 Grambling State at Bethune-Cookman ESPN+
September 24 Mississippi Valley State at Jackson State ESPN+
October 8 Jackson State at Alabama State ESPNU
Oct. 8 Alcorn State at Mississippi Valley State ESPN+
October 8 South at Prairie View A&M ESPN+
October 15 Alcorn State South of ESPN+
October 22 Texas Southern at Alcorn State ESPN+
Oct. 29 Alabama A&M at Alabama State TBA
October 29 Alcorn State at Grambling State ESPN+
October 29 South at Jackson State TBA
November 3 Alabama A&M vs. Mississippi Valley State ESPNU
November 4 Alcorn State at Prairie View A&M ESPNU
November 5 South at Florida A&M ESPNU
Nov. 5 Jackson State at Texas Southern ESPN+
November 5 Arkansas-Pine Bluff at Grambling State ESPN+
Nov. 12 Alabama A&M vs. Jackson State ESPN+
November 12 Grambling State at Texas Southern ESPN+
Nov. 12 Mississippi Valley State South of ESPN+
Nov. 19 Jackson State at Alcorn State ESPN+
Nov. 19 Bethune-Cookman vs. Florida A&M ESPNU
Nov. 24 Arkansas-Pine Bluff at Alabama State ESPN+
December 3 Cricket SWAC Football Championship ESPN2