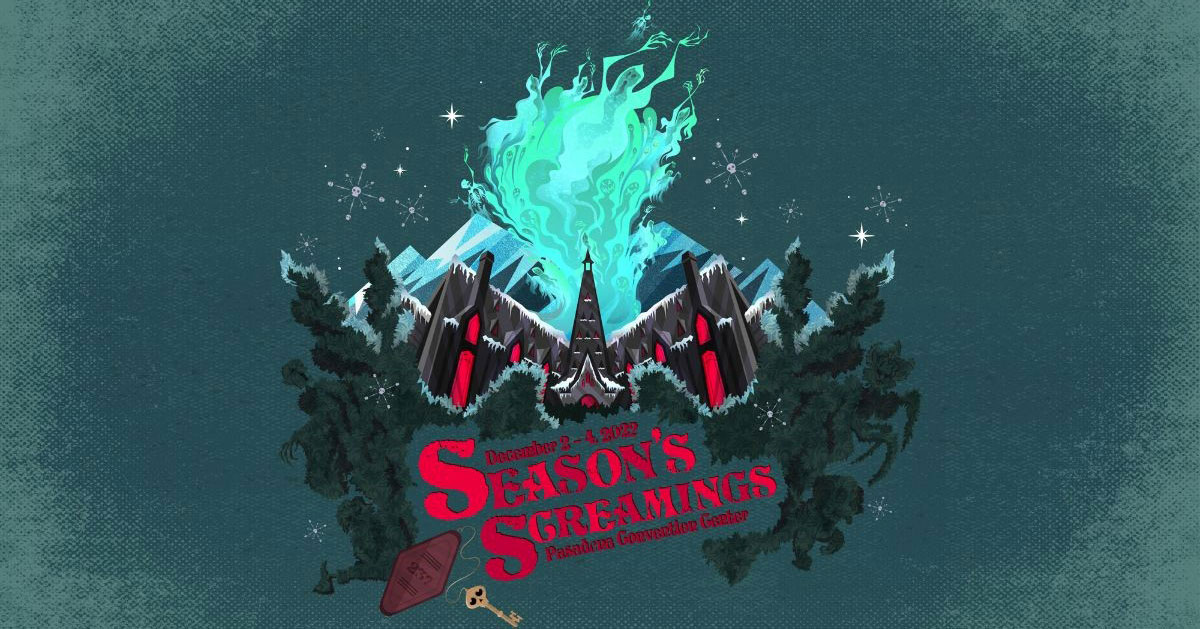 Screams of the Season confirms talent roster and programming schedule for 2022 event
Season's Screamings, the spooky holiday-themed counterpart to Midsummer Scream, the world's largest Halloween and horror convention, has revealed its final lineup schedule and confirmed talent for this year's returning event. at the Pasadena Convention Center, December 2-4.
Iconic stars from Hollywood's latest thrillers and timeless favorites anchor a weekend of holiday horror at Season's Screamings. "This year's NOPE star Keith David and Henry Thomas (The Haunting of Hill House, Ouija) – who we all first loved as Elliott in ET – are both part of many of stars who will greet fans," said David Markland, executive director and co-founder of Season's Screamings. "We will do it
also host legends like Imagineer Bob Gur and Sara Karloff – daughter of Boris Karloff.
Steven Weber, instantly recognizable for his seven seasons on 'Wings' but known to horror fans for his work in 'The Shining' miniseries and 'Tales from the Crypt', and Annabeth Gish – who starred in 'Midnight Mass" but is the most beloved by the general public for "Mystic Pizza" – are also on the long list of those who meet and greet.
Rounding out the list of celebrity appearances, Mike Flanagan ("Doctor Sleep", "Ouija: Origin of Evil", "The Haunting of Hill House"), Scott MacDonald ("Jack Frost"), Kate Siegel ("HUSH", "The Haunting of Bly
Manor, "Midnight Mass"), Robert Brian Wilson ("Silent Night Deadly Night"), and Eric Freeman
("Silent Night Deadly Night: Part 2"). Photo opportunities are available for purchase with all confirmed celebrities and can be pre-purchased through midsummerscream.org.
The final programming schedule for this unique holiday event has also been announced. This year's presentations and panels include:
Friday, December 2
8 p.m. – Misfit Tease Island from Peepshow Menagerie
From the creators of "Famous Monstergirls of Burlesque" comes a spooky, holiday-themed PG-13 revue.
Saturday, December 3
The Shining Legacy
Celebrate the 45th anniversary of Stephen King's "The Shining" and the 25th anniversary of the Mick Garris-directed TV miniseries adaptation starring Mike Flanagan (director of "Doctor Sleep," the sequel to "The Shining"), Steven Weber (Jack Torrance in "The Shining" miniseries), Henry Thomas (Torrance in Doctor Sleep"), Mick Garris and other special guests. Moderated by Fangoria's KINGCAST.
How the Grinch stole our hearts
A Heartfelt Discussion of "How the Grinch Stole Christmas!" with Sara Karloff, whose father Boris Karloff narrated the beloved animated classic, family members of animation legend Chuck Jones, and Emmy Award-winning animator and director Phil Roman, who was part of the team that brought the Grinch to life.
7:00 p.m. – Secret screening
Dead Meat's James A. Janisse and Chelsea Rebecca will host a secret screening of an all-new, never-before-seen holiday horror film that promises plenty of death – featuring the lead role in one of the most terrifying movies ever. This year.
Sunday, December 4
A Spooky Little Christmas
Author Matt Dupee hosts a panel discussion on holiday horror movies with the stars of genre favorites Robert Brian Wilson ("Silent Night, Deadly Night"), Eric Freeman ("Silent Night, Deadly Night Part 2" ) and Scott MacDonald (Jack Frost).
Flanaverse Reunion
Cast members of 'The Haunting of Hill House,' 'Midnight Mass,' 'Doctor Sleep' and more join director Mike Flanagan for a talk on making his anthology series The Haunting on Netflix and more projects. Kate Siegel, Henry Thomas, Alex Essoe and Annabeth Gish are set to appear.
The complete and up-to-date program with schedules, suppliers, guests and more will soon be available via
the Midsummer Scream app.
Season's Screamings also features holiday-themed haunts and courtyard exhibits, as well as 200 vendors
offering everything a horror fan could want in their stocking stuffer.
Day and weekend passes are available; Weekend "Naughty List" Premium Passes Include
entry one hour in advance on Saturday and Sunday, priority access to panels, presentations and
attractions, an exclusive lanyard, and a limited-edition commemorative collectible inspired by
"The Brilliant."
For more information or to purchase tickets, visit midsummerscream.org.