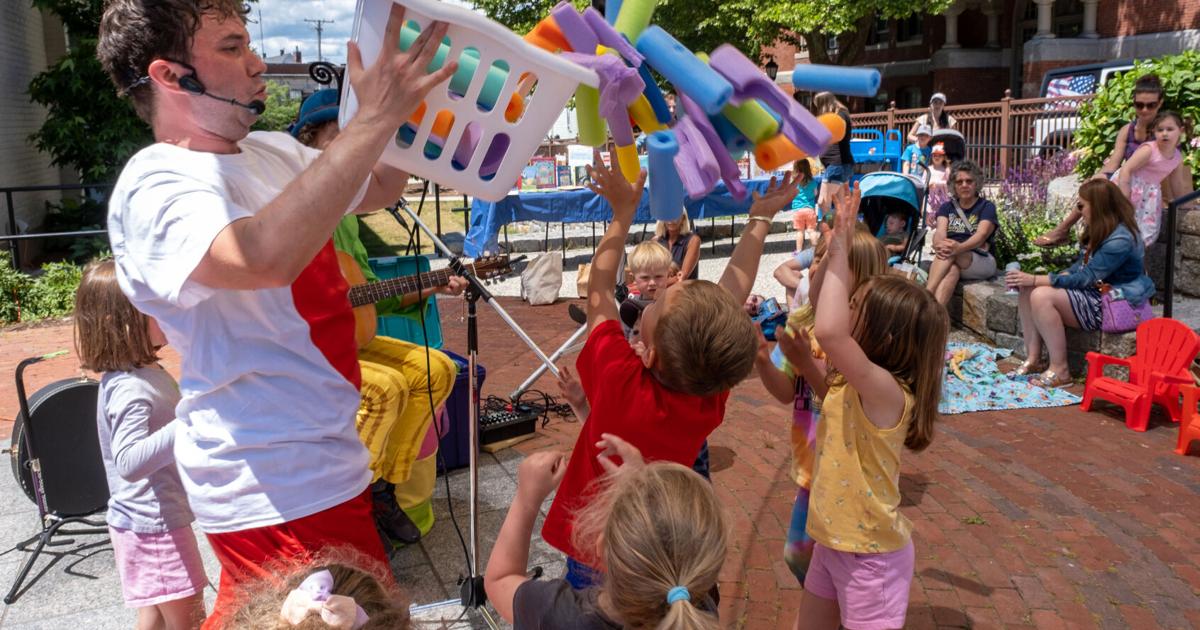 Sawyer Free launches its summer programming | New
Gloucester Public Library kicked off a summer of reading fun with a family concert on Tuesday.
The Sawyer Free Library launched its annual "Summer at the Library", offering free programs for all ages to entertain, spark and encourage a lifelong love of reading and learning, with a family concert featuring the Rainbow Dance Party by Elijah T. Grasshopper in the Library's Outdoor Amphitheater.
The reading challenge, "Read Beyond the Box," encourages readers of all ages to explore new worlds and experiences in books that expand their imaginations.
"Learning for children and teens continues year-round at the Sawyer Free Library, and we know how important free ways to keep learning throughout the summer are for families," said said library director Jenny Benedict in a prepared statement. "Summer is a great time for all ages to read, create, engage, and have fun discovering new interests and exploring new topics. We hope all kids and families will make the free library Sawyer a regular stop this summer.
To get started, young people and their families can pick up their "Welcome to Summer Reading Packets" summer reading and activity journal from the library, which contains information about the program, schedule of events, activities and treats. . Kids can stay on top of their summer reading with their "Read Beyond the Box" time-tracking reading journals. Until August 6, after reading or reading for 500 minutes, they win prizes, including tickets to the Topsfield Fair. People can register in person or online for the program.
Programming highlights for kids include (with full details at sawyerfreelibrary.org):
● Learn to play campfire songs on the ukulele with Julie Stepanek on July 5 and enjoy musical story time with Ruthanne Paulson on Friday July 22 and August 19.
● Move your body with Creative Movement in the Library Amphitheater on July 7 and be seduced by the magic of the balloons at Jungle Jim's Camp on Wednesday August 3.
● Get an up-close look at exotic and native animals on Zoom presented by the Wildlife Encounters Ecology Center on Tuesday, July 12, then learn about the world's snakes with Rick Roth on Saturday, July 23.
● Get your hands dirty on select Thursday mornings with Backyard Growers while learning about gardening and planting in the Children's Library garden.
And all are invited to an outdoor concert featuring bands Ants on a Log and Bee Parks and the Hornets, in conjunction with Rockport and Manchester-by-the-Sea Public Libraries, on Saturday July 30.
Students entering grades 6-12 are encouraged to track their summer readings on the personalized form available on the library's website to qualify for weekly raffles and the grand prize draw of two whale watching tickets courtesy of Cape Ann Whale Watch. Weekly programs available are Stem-tastic Thursdays, Science Saturdays, Tween Nights, Game Club, Summer Reading Help and more.
Due to last year's success, the library is once again offering adults the opportunity to have fun with Adult Book Bingo 2022. By September 1, 18+ can keep track of the books they read on the library downloadable. personalized bingo card by writing the title and author in the corresponding square. Each completed horizontal, vertical, or diagonal line enters readers into a raffle to win $25, $50, or $75 Cape Ann gift certificates. Special summer-themed programs will also be available.
Thanks to the generous support of the Massachusetts Library System, the Boston Bruins, the Massachusetts Board of Library Commissioners and the Gloucester Cultural Council, a local agency supported by the Mass Cultural Council, participation in the program is free. Registrations are now open for all children's, teens' and adults' programs.
Sawyer Free Library summer hours are Monday, Tuesday, and Wednesday 8 a.m. to 6 p.m., Thursday 10 a.m. to 7 p.m., Friday 10 a.m. to 5 p.m., and Saturday 10 a.m. to 1 p.m. .
For more information about the "Summer at the Sawyer Free Library" and to register for programs, visit sawyerfreelibrary.org or call 978-325-5500.