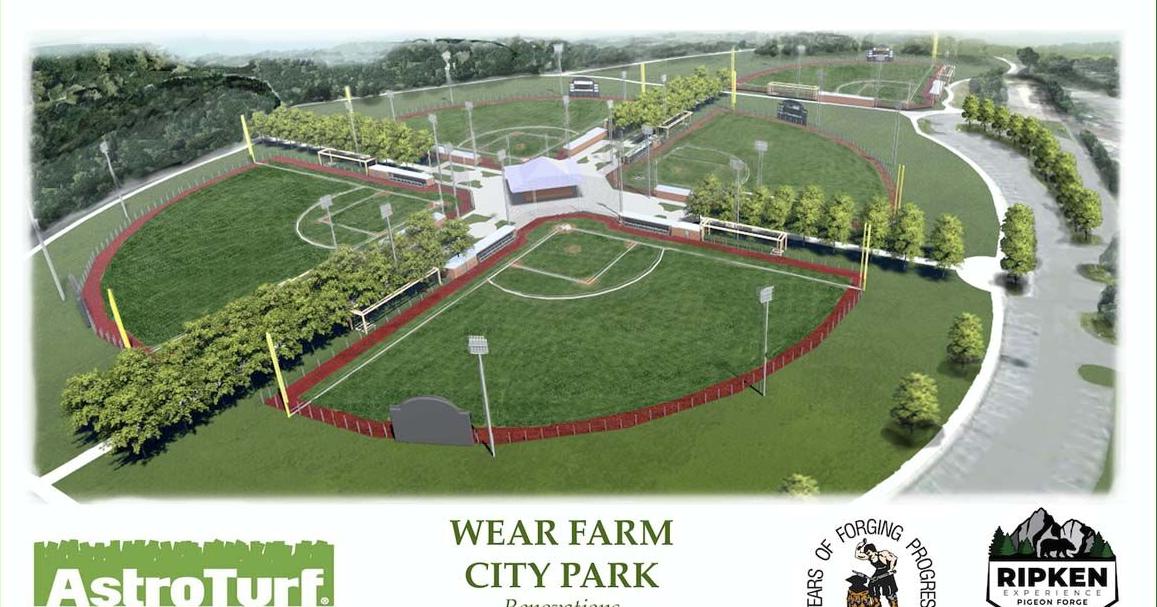 Ripken Baseball Expands Programming to Pigeon Forge | Sports
PIGEON FORGE, Tenn. — Ripken Baseball, the leader in youth sporting events, announced it has access to four additional fields in the town of Pigeon Forge. As one of the nation's most desirable youth sports complexes, Ripken Experience Pigeon Forge will be able to host teams from across the country on 10 total pitches, including access to the newly renovated grounds of Wear Farm City Park in Pigeon Forge.
All four courses in the park will be fully upgraded and redesigned before the start of the 2023 season. Similar to the original six courses at Ripken Experience Pigeon Forge which opened in 2016, each course in Wear Farm City Park will become a replica for youngsters of the famous Major League Baseball parks past and present.
Residents of Pigeon Forge will benefit from the renovations, as Wear Farm City Park will continue to host tournaments throughout the year on state-of-the-art artificial turf that faithfully replicates real grass.
"Each year, our teams and their families bring home countless fond memories of the Pigeon Forge area when they participate in The Ripken Experience," said Cal Ripken, Jr., who co-founded Ripken Baseball with his brother. Bill Ripken. "The views are incredible and the feeling you get when you experience our resort is special. The demand to play here is through the roof. This is an exciting opportunity to expand and welcome even more baseball families to Pigeon Forge.
The four fields at Wear Farm City Park will be transformed into youth replicas of the following big league stadiums: St. Louis' Busch Stadium, Pittsburgh's Three Rivers Stadium, Philadelphia's Veterans Stadium and Cincinnati's Riverfront Stadium. The $3 million renovation project will begin this summer.
"Pigeon Forge's partnership with Ripken Baseball is a success, as evidenced by the annual increase in demand for ball diamonds and the direct impact on our city's tourism industry due to the many families visiting," said Pigeon Forge City Manager Earlene Teaster. "The improvements to Wear Farm City Park are a win-win for The Ripken Experience™ and our Pigeon Forge residents, as these fields bring vast improvements for all to enjoy."
Pigeon Forge residents and local youth teams will appreciate the renovations immediately upon completion. Ripken Experience Pigeon Forge access to Wear Farm City Park applies primarily to daylight hours during the summer season, allowing the four baseball diamonds to remain available to Pigeon Forge residents during evenings, weekends and most Fridays. The addition of artificial turf provides longer days during the winter months (November to early March), earlier start times year-round, and faster turnaround when it rains. Wear Farm City Park is open daily from 8 a.m. to 10 p.m. The park, which also has youth soccer and football facilities, will continue to host youth baseball leagues.
The Ripken Experience Pigeon Forge hosts over 1,000 teams each year from over 30 states, traveling from as far away as California, Alaska and overseas. The families of players, many of whom are visiting Pigeon Forge for the first time, have a significant impact on the economy of Pigeon Forge. A 2018 economic impact study attributed $33.8 million in visitor spending to The Ripken Experience™ Pigeon Forge during the facility's nine-month season that year.
Pigeon Forge's appeal as a family vacation destination was a key reason the city built the $22.5 million resort and contracted Ripken Baseball to operate it. During seven seasons of operation, the facility solidified Pigeon Forge as a major sports tourism destination. Additionally, research indicates that 99% of people who visit the facility reside outside of Sevier County.
Tournament participants, coaches and their families contribute to the local economy through overnight accommodations, ticket purchases for area attractions, restaurant meals and other purchases.
Pigeon Forge is located in Sevier County, just 6 miles from the entrance to the Great Smoky Mountains National Park.
Since opening its doors in March 2016, more than 5,000 youth baseball teams and 250 high school softball teams have visited The Ripken Experience Pigeon Forge's six fields. In total, more than 75,000 players and coaches have traveled to play ball on pitches with stunning views of the Great Smoky Mountains, with an additional 1,000 teams expected to travel to the complex for competition in 2022.
The Ripken Experience Pigeon Forge is located on a ridge above Pigeon Forge. Each field borrows its design inspiration from current and former ballparks highlighting the progression of professional players from the minor leagues to the majors, including Oriole Park at Camden Yards in Baltimore.
The others are Calfee Park in Pulaski, Virginia, the oldest park in the Appalachian League; Fluor Field in Greenville, South Carolina, known as "Little Fenway"; Engel Stadium in Chattanooga, Tennessee, filming location for the film "42" about Jackie Robinson; BB&T Ballpark in Winston-Salem, North Carolina; and Isotopes Park in Albuquerque, New Mexico
The Ripken Experience Pigeon Forge hosts tournaments nine months a year and offers marquee events year-round at its 14,000 square foot clubhouse. Tournaments are free to spectators and parking is free at the resort.
Tourist information for Pigeon Forge is available online at MyPigeonForge.com and toll-free at 800-251-9100. To learn more about Ripken Baseball and The Ripken Experience Pigeon Forge, visit RipkenBaseball.com.
Ripken Baseball brings teammates, coaches and families together through its big league experiences, while teaching the values ​​of the game and how to play it the right way – the Ripken Way. Recently expanding the best experience in youth sports to satellite locations through Ripken Select Tournaments, Ripken Baseball continues to innovate the game through tournaments, camps, clinics and spring training at their baseball facilities and state-of-the-art softball facilities – The Ripken Experience Aberdeen (Maryland), The Ripken Experience Myrtle Beach (South Carolina) and The Ripken Experience Pigeon Forge (Tennessee).